No surprise, it has taken a major event – Sotheby's Inaugural Designer Showhouse – to get me fired up about writing another blog post!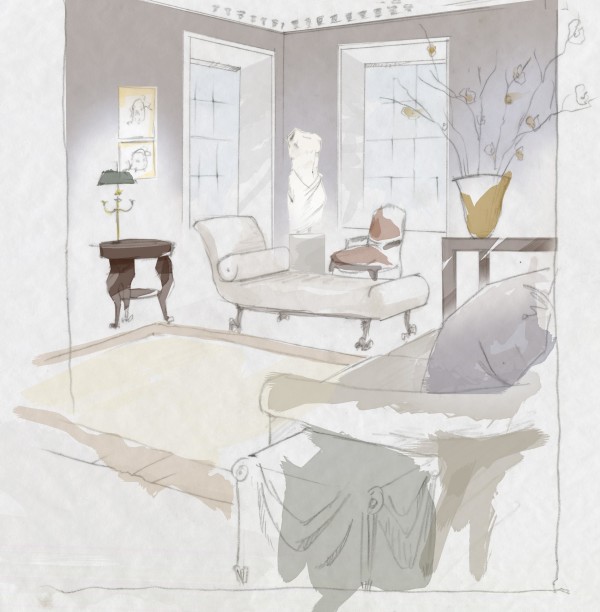 How it Came To Be
When my former boss, and head of the old master paintings department, Christopher Apostle, asked me if McMillen Inc. would like to participate in Sotheby's Designer Showhouse, I accepted immediately.  It was a no-brainer!  During the seven years I worked at Sotheby's, I always dreamed about being able to  incorporate the beautiful pieces I saw every day into functioning interiors – I couldn't believe the opportunity that our firm was given!
The Rules of The Game
Six design firms participated – McMillen Inc., Max Sinsteden & Catherine Olasky, Ryan Korban, WRJ Design, Modern Declaration, and Shaler Ladd.  Each designer had to choose at least twenty pieces – furniture, lighting, paintings, prints, and objets gleaned from future Sotheby's sales – and then use them to create a room in a 20′ by 20′ space.   We weren't allowed to reupholster any of the antique furniture being offered for sale, and if we wanted to use upholstered, or, "soft" furniture, we had to bring it in ourselves.
McMillen chose to do a dining room, and the results are below!
My mother filled her latest purchase from Rago's, a resin Fish Design vase by Gaetano Pesce, with white anemones, McMillen's signature flower.  This vase has been one of the main attractions of our room,  and naturally, my mother has had a lot of fun reminding me that I 'advised' her not to buy it!  (Specifically I said it was "ugly and weird." Anyway, it's grown on me!)  I love the geometric pattern of this George III Giltwood marble top side table, circa 1775, and how its black and white palette is carried up the wall by the John Baldessari print.
For our dining table, we chose a beautiful Chinese Export parcel-gilt black lacquer center table, circa 1835.  Notice how the red tongues of the dragons at the base of the table pick up the red details of the screen behind, the red accents in the Lichtenstein, the red of the upholstery of the Godwin settee, and (while not visible in this photo) the red rectangle in the John Baldessari print.  My mother, Ann Pyne, designed and -  together with A.W. Fowler – executed, the geometric blue-on-blue-on-blue design of the walls.  I think it works perfectly with the diagonals of the Lichtenstein, and as a means of "contemporizing" the 18th and 19th century furniture.
A detail of our table setting. These adorable owl pepperettes were one of the first objects I chose.  I love this photo, and how it looks like the tiny birds are being watched over by Lichtenstein's daydreaming beauty.
A view of our dining room from north to south, with the door to the old master paintings department on the left (and the 6th floor bathroom on the right)!!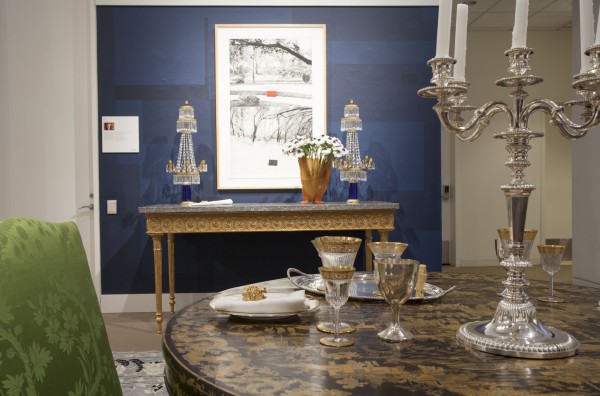 As everyone knows, photos can never really do a room justice.  So go to 1334 York Avenue and see the Designer Showhouse for yourself.  We had so much fun working with Sotheby's and the specialists there, especially Andrew Ogletree, who is extremely knowledgeable, and a blast to be around!  The Showhouse is open to the public through Sunday, March 30th.
xo
EP