Today is the last day of the NYGIF, so I thought I'd better hurry up and post my favorite finds!
Like many designers, I love fun combinations of color and textures, and I chose objects that play with those combinations.
I liked the Fay Lamp from the Mr. Brown line by Julian Chichester.  I would put a pair of these on either end of console table in an entry hall or living room.  I would replace the shade shown here with a black opaque shade to emphasize the silver tones of the antique glass and to make the lamp look more bold.
I'm a big fan of Bungalow 5, and I loved these vases!  The aqua blue butterflies are so whimsical and feminine.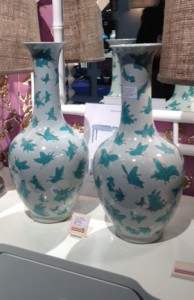 Our next stop was Oomph, whose playful lacquered furniture and brightly colored accessories always make me smile!  I love the fretwork on the Newport Mirror and Console…both are available in 16 different highly lacquered colors.  And those white pillows with fuchsia and orange grosgrain-and-button trim are adorable!  (They would look fantastic on my own sofa…)
While scouring the many booths at The Gift Fair, I ran into my friend and fellow interior designer, Drew McGukin, who pointed me towards Lance Wovens.  And boy, am I glad he did!  Lance makes woven leather pillows, benches, rugs and tote bags.  Their products are a merging of two cultures: the beautiful, soft leather is distinctly Italian; the graphics – plaid and chunky stripes – are iconic American designs.
The totes bags below are a perfect example this Italian / American fusion.  A cross between a Bottega Veneta handbag, and an LL Bean canvas tote, these bags are seriously stylish.  And the price is much closer to LL Bean than Bottega Veneta!! (I've already ordered the purple one for myself, and I cannot wait for it arrive…)
Okay, got to run!  I hope you liked my picks.
XO
EP